Note: Once a parent account is used to begin enrollment for a particular student, that account must be used to complete enrollment for that student (i.e. one parent/guardian cannot start the process and have another finish it).
Choose the first returning student that you want to enroll for the upcoming school year and then click on Returning Student Enrollment.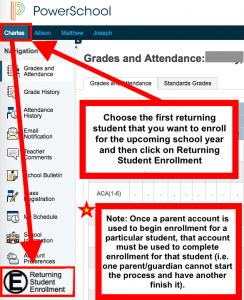 Check the box to comply with COPPA regulations (click the link if you want to read more about it).  Note, you will only be asked to do this one time.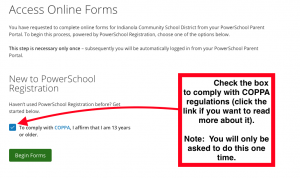 Wait briefly while the system authenticates your access.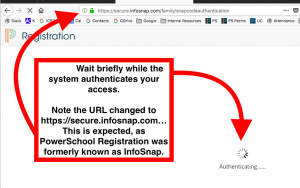 Enter your student's birth date as one more measure to confirm the identity of you and your student.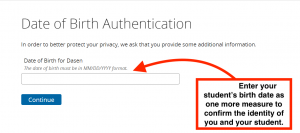 Begin the enrollment process by reading the Introduction.  Clicking "Next" at the bottom will move you on to the next area in the enrollment process.  You may click any of the links on the left to navigate to specific areas during online enrollment.  The information you enter is saved as you enter it.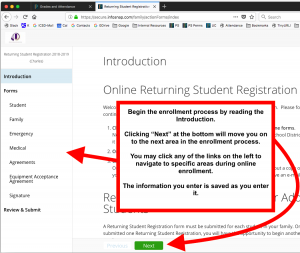 Enter information as required to continue through the enrollment process.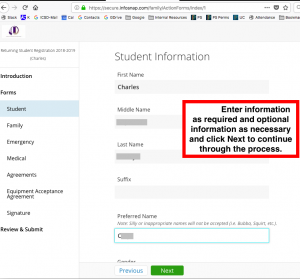 Notice that some fields have the "required" indicator beside them.  You cannot submit your online enrollment information until all required fields are filled in.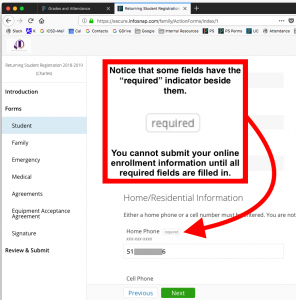 When you reach the "Review & Submit" page, any required fields that you may have skipped will be highlighted in red.  Click the Edit link to enter the required information.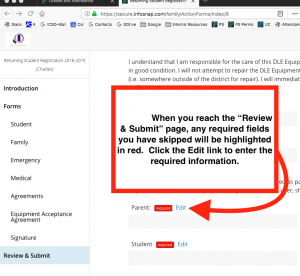 The Summary Page will show the status for each page. If there is a number in red, please click on the red circle to go to the page with missing or incorrect information. The required fields will be noted with "Required" in a red oval.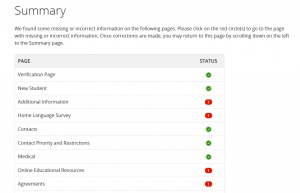 Once corrections are made on a page, you may return to the summary page page by scrolling down on the left, and clicking "Summary".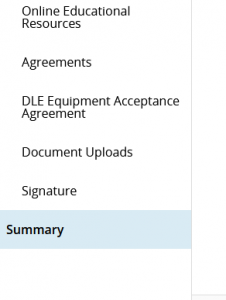 If you leave the system and come back later, you will be greeted with the "Welcome Back" screen and options to choose. Simply choose the option you prefer and continue with the enrollment process.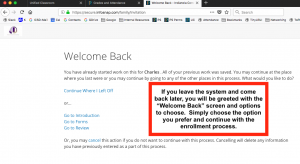 If you are completing enrollment prior to July 1st, please mark your calendar for July 1st.  Online payments cannot be accepted for the next school year until after July 1st.
After submitting enrollment for one student, you may enroll another by returning to the PowerSchool Parent Portal.