DLE Overview
In 2013 the Indianola School Board voted unanimously in favor of a plan to move forward with a high school Digital Learning Environment (DLE). In short, this means that every high school student receives a MacBook Air to use for curriculum, assessment, and instruction while at school and at home.  In December 2018, our middle school will move to a DLE at the 8th grade level.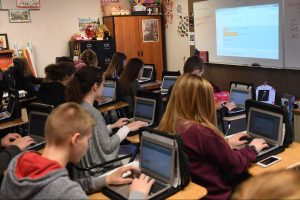 Putting the power of a laptop into the hands of every teacher and student opens up a new ways of teaching and learning that expands the walls of classrooms beyond the normal school day.  Teachers no longer have to schedule a computer lab and students are not limited to working on technology-based projects and research only during the school day.  Teachers and students now have the ability to collaborate and get feedback on assignments anytime, anywhere there is an internet connection.
Our devices feature the latest in technology resources for our staff and students.  They hold a charge that lasts up to 12 hours – allowing for a full school day of use.  In addition to the resources built-in to the devices, teachers and students use PowerSchool Learning (LMS), G Suite, and many other online tools. Like all other district computers, the DLE devices have Internet filtering software installed to help ensure the online safety of our students – both at school and at home.  While the district does its best to provide adequate protection, there is no substitute for parental monitoring.  Parents are strongly encouraged to observe usage and set restrictions for home use.
To help ensure our DLE is reliable and available, the district utilizes two Internet Service Providers (ISPs) to deliver redundant service.  Students and staff enjoy fast web browsing with over 1000 Mbps of enterprise-grade bandwidth. In addition to our high-speed Internet service, we also utilize an enterprise-grade Cisco wireless infrastructure that allows for every student to connect with multiple wireless devices.
Parents or legal guardians and students should review the safety warnings included in the MacBook Air Info Guide. Students and their parents or legal guardians are strongly encouraged to review the Info Guide to understand more about the equipment, its capabilities, and required care.  Additional tips for MacBook Air handling and care can be viewed at: http://tinyurl.com/lx3ygz7.
There are no fees associated with students receiving DLE devices.
Quick Links
DLE Orientation (HS) DLE Device Handbook DLE Device Acceptance Agreement