Welcome to Whittier!  We're glad you are here! 
Dear Whittier Students and Families,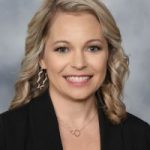 My name is Brooke Mendoza, and I am excited to introduce myself as the new principal of Whittier Elementary School.  I am honored to have been selected to join the Indianola Community School District, which is known far and wide for their proud traditions and unlimited possibilities. I feel fortunate to have the opportunity to lead a school with such persevering students, an extremely dedicated staff, and a supportive school community.  In the short time that I have had to get to know the staff at Whittier, it is clear that they are dedicated to excellence, but more importantly, to our children. I am grateful to have also had several months to get to know and collaborate with Mr. Johnson and look forward to a smooth transition.  I feel very fortunate to be part of this amazing school and begin my work supporting the staff, students, and families.
I have been dedicated to the field of education for almost twenty years.  I hold a degree in Elementary Education from Western Kentucky University and attained my first masters degree as a K-12 Reading & Writing Specialist from the University of the Cumberlands shortly thereafter.  After moving to Iowa I completed my masters in Educational Administration from Northwestern College.  I have been fortunate to have worked with students ranging in age from Kindergarten through 12th grade in a variety of roles.  I have been a regular education teacher, a Title I Coordinator, a K-12 Instructional Coach, as well as an Elementary School Assistant Principal.  I am excited to bring my skills and dedication as an educational leader to Whittier Elementary School and to work with you as a partner in education to ensure your child's success.  
My husband Jon, who is also a school administrator, is a great sounding board and someone who shares my passion and dedication to leadership, quality education, and student success.   Together we have our  5 amazing children, 4 boys and our little girl, who keep us very busy with just about anything you can imagine.  We enjoy watching them play football, golf, wrestle, and anything else they decide to participate in.  We currently reside in Norwalk, however, look forward to hopefully finding a place in Indianola to call home in the near future.  
At Whittier, you will find a family oriented community of educators who are built on the foundations of collaborative teams that work together toward one common goal– student learning.  The staff at Whittier passionately dedicate themselves to the success of all our students.  Whittier is a building that continues to work hard to ensure that every student feels valued and has a proud sense of belonging.  Relationships are important at Whittier and you will quickly see the commitment to ensuring every child has not only a valuable, but memorable, experience when they enter the doors to Whittier Elementary.   
Please always feel welcome to visit Whittier Elementary!  We would love to have you see and experience the wonderful things happening on a daily basis in our building.  This school year will be an amazing year and we look forward to having you here!   If you are interested in any additional information about Whittier Elementary, please browse through our website or call 515-961-9570.    
If you have any questions please feel free to contact me.  
Sincerely, 
Brooke Mendoza
PK-5 Principal 
Whittier Elementary School
Indianola Community School District