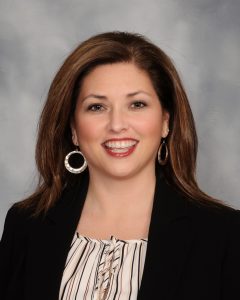 My name is Amy Jo Naughton, and I am proud to serve as the principal of Laura Ingalls Wilder Elementary. I would like to personally welcome you to our family friendly school.  I am currently in my 15th year as a principal with the Indianola School District and my fourth year at Laura Ingalls Wilder. I joined the Indianola Community School District in 2008 when I became principal of Irving Elementary.
My professional educational journey began after graduating from the University of Northern Iowa in 2000 with a degree in Elementary Eduction and Early Childhood development.  I began my first teaching job as a first grade teacher in Waukee, Iowa and then later in Ankeny, Iowa.  While teaching in Ankeny I earned my masters degree in Educational Leadership from Iowa State University.  
My husband, Adam, and I are proud to call Indianola our home and are thankful for the quality education it has provided to our three children over the years.
At Laura Ingalls Wilder Elementary you will find a school filled with students excited to learn, a caring and highly engaged staff, and families who are passionate about their children's education. Thank you for taking time to learn about our community of learners through the Indianola school website. When looking through the upcoming dates, staff information, and additional news unique Laura Ingalls Wilder; you will recognize Indianola Community Schools and Laura Ingalls Wilder as an exceptional district and school where your child will receive an educational experience encouraging student leadership and growth both socially and academically. This school year will be an exciting year and we look forward to your child and family being a part of the Laura Ingalls Wilder community!
If you have questions, feedback, or celebrations please feel free to contact me.
Sincerely,
Amy Jo Naughton
K-5 Principal
Laura Ingalls Wilder Elementary
Indianola Community School District
(515) 961-9540