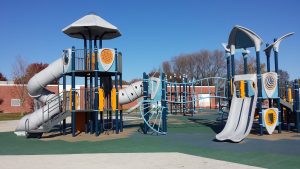 Emerson Elementary School Fast Facts
At Emerson Elementary we are a community of educators who are built on the foundations of collaborative teams that work together toward one common goal, student learning.
Learning Structure
Approximate enrollment of 440 students in grades Kindergarten-Fifth Grade

Class sizes

K-2–approximately no more than 25

3-5–approximately no more than 29

The school day is 7:45-2:55 Monday, Tuesday, Thursday, Friday. 7:45-1:55 on Wednesdays.

The Elementary schools operate on a 6 Day cycle. Students attend Art, Music and PE twice during a cycle while attending Guidance and Media once during a cycle.
Student Demographics and Learning
Approximate 5% minority student body

Over 80% of students are proficient as measured by the Iowa Assessment for reading, math, science

33% Free and Reduced Lunch population
Facility
Emerson Elementary was built in 1958

Major renovation to the building and playground in 2015.  Renovations included:

Safety and security of interior and exterior doors

New Media Center

New playground

New staff parking and bus drop off/pick up

All new and updated surfaces (floors, walls, ceilings)

Completely new furniture throughout the building

Wireless connections throughout the building.
Student Support Services
Counselors serve students in whole group, small group, and individual settings

Reading support is provided to those students who qualify

School-based therapy is available for families in need
Communication
Approved visitors sign in at the office to receive a visitor's pass. A photo ID is required.

Building newsletter is emailed on Mondays. Paper copies are available.

Call the office for all attendance communication and notes from home.

Materials are delivered to students by the office secretaries or office helpers.

Please reference the elementary handbook on this website for further information.