Welcome to Irving Elementary
My name is Derek Morris, and I am excited to be part of the Irving team.  Previous to serving the Indianola School District, I was an elementary principal in Lenox, IA for thirteen years.  This will be my fourth year serving as the elementary principal for Irving. I am very excited to be part of the Indianola School District.  I look forward to working with students, staff, and parents to continue to make Irving an excellent school.
I began my educational career as an elementary teacher in the Highland Riverside District and later in the Bedford School District. I earned my master's degree in Educational Leadership from Northwest Missouri State in 2003, and began my administrative career as Dean of Students for the Lenox School District.  
I would like to take this opportunity to welcome you to Irving Elementary School.  We are proud of our dedicated, exper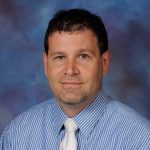 ienced staff and enthusiastic learners.  We believe in being #IrvingStrong; which means we are an elementary school full of strong and determined World Class Learners.
Irving Elementary is a Year Round School that runs on an alternative calendar.  There are still only 180 days of school, just like the traditional calendar.  The difference is that the school days are spread out through 11 months throughout the year instead of the traditional 10.  Classes start in early July and we end the school year with the rest of the students in Indianola who are on the traditional calendar.  The students have classes for about ten weeks and then have a three-week break.  
Irving Elementary also has a wonderful caring staff that has tremendous parent support.  Irving offers Kindergarten through fifth grade classes.  Our curriculum provides a superb educational program for the students. They receive instruction in reading, language arts, math, science, and social studies.  The students also participate in art, music, physical education, media and guidance classes.  In fifth grade the students may elect to be in chorus, band, and/or orchestra.  We provide special educational services, speech services and a Talented and Gifted program for those who qualify.  We have an elementary counselor that has weekly classroom guidance and who also works with small groups and individual students.  We have a school nurse or health associate in the building each day to provide health and medical support to those students in need.
Irving has a friendly atmosphere which is conducive to learning.  The parents are supportive and the Parent Teacher Organization is actively involved in the life of the school providing financial support and the planning of social days and fun activities to complement our program.  Strong parent-teacher communication permeates throughout the building.
You are welcome to visit Irving Elementary and find out in person about the educational opportunities that are being provided for the students.  Irving is open to volunteers or visitors.  If you would like to visit or volunteer at Irving, please call 961-9560.  If you would like any additional information about our school, please visit our website or call.
If you have any questions or comments please feel free to contact me.
Derek Morris
Irving Principal