Share your story!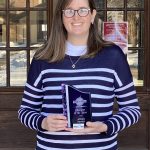 Indianola Spotlight
Ali Sauter - Indianola Chamber Educator of the Year
Technology Integration Coach Ali Sauter will be honored as the Chamber Educator of the Year at a virtual program February 4! Ali has been very helpful and very busy as district staff has tackled remote learning needs this last year. Congratulations to Ali and to the staff she represents, who have worked so hard and learned so much.
Read More
Indianola Info Hub
Select your building to view announcements, information and more!
Preschool
View Website
General Return to Learn Updates
The district intends to have elementary onsite students return to full school days January 20, pending staffing needs being met. Elementary remote learning schedules will change at that time, too. Wednesday will be a ninety-minute early release for…
Read More
Veteran's Day Tribute Video
This Veteran's Day Video has been a collaboration between the Gifted & Talented students at IMS, IHS, Irving, and Whittier, the band and chorus at IMS, and the chorus at IHS. It has been a labor of love…
Read More
All Announcements
Emerson Elementary
View Website
General Return to Learn Updates
The district intends to have elementary onsite students return to full school days January 20, pending staffing needs being met. Elementary remote learning schedules will change at that time, too. Wednesday will be a ninety-minute early release for…
Read More
Veteran's Day Tribute Video
This Veteran's Day Video has been a collaboration between the Gifted & Talented students at IMS, IHS, Irving, and Whittier, the band and chorus at IMS, and the chorus at IHS. It has been a labor of love…
Read More
All Announcements
Irving Elementary
View Website
General Return to Learn Updates
The district intends to have elementary onsite students return to full school days January 20, pending staffing needs being met. Elementary remote learning schedules will change at that time, too. Wednesday will be a ninety-minute early release for…
Read More
Veteran's Day Tribute Video
This Veteran's Day Video has been a collaboration between the Gifted & Talented students at IMS, IHS, Irving, and Whittier, the band and chorus at IMS, and the chorus at IHS. It has been a labor of love…
Read More
All Announcements
Whittier Elementary
View Website
General Return to Learn Updates
The district intends to have elementary onsite students return to full school days January 20, pending staffing needs being met. Elementary remote learning schedules will change at that time, too. Wednesday will be a ninety-minute early release for…
Read More
Veteran's Day Tribute Video
This Veteran's Day Video has been a collaboration between the Gifted & Talented students at IMS, IHS, Irving, and Whittier, the band and chorus at IMS, and the chorus at IHS. It has been a labor of love…
Read More
All Announcements
Laura Ingalls Wilder Elementary
View Website
General Return to Learn Updates
The district intends to have elementary onsite students return to full school days January 20, pending staffing needs being met. Elementary remote learning schedules will change at that time, too. Wednesday will be a ninety-minute early release for…
Read More
Veteran's Day Tribute Video
This Veteran's Day Video has been a collaboration between the Gifted & Talented students at IMS, IHS, Irving, and Whittier, the band and chorus at IMS, and the chorus at IHS. It has been a labor of love…
Read More
All Announcements
Indianola Middle School
View Website
General Return to Learn Updates
The district intends to have elementary onsite students return to full school days January 20, pending staffing needs being met. Elementary remote learning schedules will change at that time, too. Wednesday will be a ninety-minute early release for…
Read More
Veteran's Day Tribute Video
This Veteran's Day Video has been a collaboration between the Gifted & Talented students at IMS, IHS, Irving, and Whittier, the band and chorus at IMS, and the chorus at IHS. It has been a labor of love…
Read More
All Announcements