Share your story!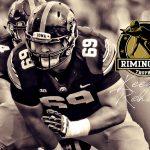 Indianola Spotlight
IHS Alumnus Keegan Render named to the Rimington Watch List
Render (6-foot-4, 307-pounds) started in all of Iowa's 13 games in 2017. The Indianola, Iowa native saw action at center, right guard, and left guard last year, while playing in every offensive down in five of 13 games...
(Photo credit: https://hawkeyesports.com)
Read More
Indianola Info Hub
Select your building to view announcements, information and more!
Laura Ingalls Wilder Elementary
View Website
Free Food for the Summer
The Food Service Department participates in a summer food service program that allows us to have a direct impact on our community. All students age 3 to 18 are eligible for free breakfast and lunch during the summer…
Read More
All Announcements