Share your story!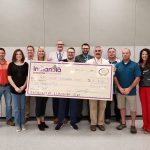 Indianola Spotlight
Indianola Young Professionals Donate Funds to Benefit Students in Need
The Indianola Young Professionals (affiliated with the Indianola Chamber of Commerce) presented Indianola CSD Food Service Director Jim Rupp and Indianola CSD Superintendent Art Sathoff with a $10,000.00 check this morning! This is the second year in a row that the IYP has generously donated funds raised through events like their Putt-Putt and Pints to the school district to directly benefit students in need. This year's donation has $2,500.00 designated for kindergarten students who cannot afford milk at snack time and $7,500.00 to help with unpaid lunch fees for students in need. Thank you, IYP, for helping our kids and families!
Read More
Indianola Info Hub
Select your building to view announcements, information and more!